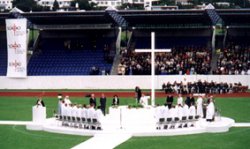 Gu­s■jˇnusta ß Laugardalsvelli 1999
Heyr himnasmi­ur, Hˇlar Ý Hjaltadal 1999
sřningah÷nnun 1999 / exhibition design 1999
Halldˇr Laxness, Ýslenskur rith÷fundur.
Bˇkmenntakynning ß erlendum vettvangi, unnin fyrir Menntamßlarß­uneyti, Landsbˇkasafn og Bˇkmenntakynningarsjˇ­, ß ensku og ■řsku, sÝ­ar ß sŠnsku, fr÷nsku og r˙ssnesku.
Heyr himnasmi­ur.
Sřning ┴ Hˇlum Ý Hjaltadal ß kirkjugripum og kristnis÷gu Ý Skagafjar­ar-prˇfastsdŠmi, unnin fyrir Bygg­asafn Skagfir­inga og fleiri a­ila. Opnu­ Ý j˙lÝ.
S÷guskßlinn.
Samkomu- og fundarsalur Ý mi­aldastÝl Ý S÷gusetrinu ß Hvolsvelli.
Eldborg.
Margmi­lunarsřning um jar­s÷gu, jar­frŠ­i og jar­hita Ý Eldborg, kynningarh˙si Hitaveitu Su­urnesja vi­ Svartsengi. Opnu­ Ý nˇvember.
exhibition design 1999
An Icelandic Writer.
A travelling exhibition about Icelandic Nobel-Prize writer Halldor Laxness.
Church Art.
A summer exhibition at the Bishops seat Hˇlar in the North.
The Saga Hall.
A great hall in medievel style for banquets, at the Saga Centre.
Volcanic Activity
An educational exhibition about geology, volcanos, earthquakes etc. at the Svartsengi Geothermal Power Plant near Keflavik.