H÷nnu­urinn Bj÷rn G Bj÷rnsson
Samg÷ngur ß ═slandi, verkstŠ­i s÷­lasmi­s, Skˇgar 2002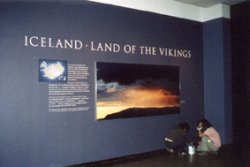 Ljˇsmyndasřning Pßls Stefßnssonar Ý American Museum of Natural History, NY 2000
bj÷rn g bj÷rnsson
Bj÷rn G. Bj÷rnsson hˇf st÷rf sem leikmyndateiknari strax a­ loknu st˙dentsprˇfi sumari­ 1966, ■egar undirb˙ningur a­ stofnun rÝkissjˇnvarpsins stˇ­ sem hŠst. Ůar teikna­i hann hundru­ leikmynda og b˙ninga vi­ allar tegundir sjˇnvarpsefnis nŠstu 10 ßrin. Bj÷rn dvaldi hjß danska sjˇnvarpinu Ý Kaupmannah÷fn 1969-1970 vi­ nßm og st÷rf og veitti leikmyndadeild sjˇnvarpsins forst÷­u 1970-1976.
Eftir nokkur ßr Ý lausamennsku vi­ sjˇnvarp, leikh˙s og kvikmyndir stofnu­u ■eir Bj÷rn og Egill E­var­sson framlei­slufyrirtŠki­ Hugmynd hf ßri­ 1980. Ůeir framleiddu sjˇnvarpsauglřsingar, tˇnlistarmyndb÷nd og margt fleira, ■ar ß me­al kvikmyndina H˙si­ me­ Saga film ßri­ 1983, sßu um ■ßttt÷ku ═slendinga Ý S÷ngvakeppni evrˇpskra sjˇnvarpsst÷­va Ý Bergen 1986 og Ý BrŘssel 1987.
Vori­ 1987 ger­ist Bj÷rn dagskrßrger­arstjˇri hjß St÷­ 2, sem ■ß var ß fyrsta ßri, og ger­i sjßlfur nŠr 60 ■Štti um s÷gusta­i og menningarminjar undir heitinu ┴fangar. Bj÷rn tˇk einnig a­ sÚr h÷nnun leikmynda og b˙ninga vi­ leikh˙s og kvikmyndir, ■. ß. m. Punktur, punktur... eftir Ůorstein Jˇnsson 1980, Amadeus 1983 og ˇperuna GrÝmudansleik Ý Ůjˇ­leikh˙sinu 1985.
┴ri­ 1992 ur­u ■ßttaskil ß starfsferli Bj÷rns en ■ß sneri hann sÚr nŠr eing÷ngu a­ h÷nnun safna og sřninga, sˇtti nßmskei­ Ý sagnfrŠ­i vi­ Hßskˇla ═slands, og tˇk a­ sÚr tÝmabundna stjˇrn Sjˇminjasafns ═slands fyrir Ůjˇ­minjasafni­. Helsta verkefni­ ■ar var endurnřjun sřninga safnsins og kynning ß ■vÝ. SÝ­an ■ß hefur Bj÷rn hanna­ hßtt Ý eitt hundra­ sřningar fyrir s÷fn og setur vÝ­s vegar um landi­. Sjß undir sřningah÷nnun.
the designer
When preparations for an Icelandic television started in the summer of 1966, Bj÷rn G. Bj÷rnsson was assigned as it┤s first designer. There he designed hundreds of sets of all shapes and sizes for the next 10 years. He studied at the Danish State Television in Copenhagen 1969-1970 and was head of the design department at RUV 1970-1976.
After four years as a free-lance designer in television, films and theatre he formed a production company with his partner, Egill E­var­sson in 1980, producing tv-commercials, music videos and documentaries plus the feature film The House, in collaboration with Saga Film, in 1983.
In 1987 Bj÷rn became Vice President of Production at Channel 2, the first independent televison station in Iceland, then in it┤s first year. There he hosted and produced himself 60 short documentaries about heritage sites and historic buildings under the title ┴fangar (Milestones). He also designed sets for films and theatre productions such as Punktur, punktur... a film by Ůorsteinn Jˇnsson in 1980, Amadeus in 1983 and Verdi┤s Masked Ball 1985.
In 1992 Bj÷rn turned a page and left the world of television and film production, entered history classes at the University of Iceland and took over temporary management of the Maritime Museum of Iceland redesigning it┤s exhibitions. Since then Bj÷rn has designed and built almost one hundred exhibitions in juuseums and centres around Iceland.
Bj÷rn G. Bj÷rnsson - sřningah÷nnun - Engjaseli 41 - 109 ReykjavÝk - gsm 892 8441 - netfang: leikmynd@leikmynd.is